Living Fully Show with Deborah Hightower: Poised & Prepared for Success
Deborah Hightower is a woman with great success. She is a best selling author, successful singer, and an award winning financial advisor. But it wasn't always this way. At the young age of 16, she became pregnant and had her first child. The challenges she had to overcome throughout her life taught her many great lessons that she shares in today's Living Fully Show.
How did she do it?
What were her guiding principles?
How does she coach and mentor others today to live their lives with poise to create success?
This is her story of determination, passion and poise.
Watch the Interview
Listen/Download the Interview
 
Her recommendations
1. Stop. Think. Contemplate. Have quiet time: Give yourself time each morning, during the day, and at night to have quiet time for renewal and to prioritize what is important.
2. Know what you are saying. Be reasonable with your expectations. Be diligent with your time.
3. Execute what you have on your plan. First thing in the morning, know what you have to do upon your feet hitting the floor. What are your priorities for the day. What are your priorities for the next 30 days.
4. Stretch yourself every day. Do something different and stretch for personal and professional growth.
5. Assign a purpose to everything you do and evaluate it along the way. Is it serving a purpose? Is it leading you to your higher good?
6. Be financially sound. If you do not know what your financial goals are and how financially prepared you are for life's unexpected and expected events, get the support you need to make your plan to be financially sound.
Resources
When the Heart Waits by Sue Monk Kidd
The Art of Power by Thich Nhat Hanh
The Happiness Advantage by Shawn Achor
#1M10MProject
Deborah has chosen to highlight the great work that Dress For Success  and her local organization in Atlanta do as her #1M10MProject recipient. Hear the reasons she chose this organization to highlight and support.
About Deborah Hightower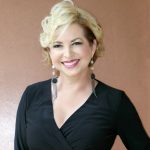 Deborah Hightower represents a multi-faceted combination of success. Ranging from the financial arena in corporate America to writing and speaking, her approach is designed to prompt a rethink of thinking.
Deborah holds degrees in Business Administration, Communication and Management and numerous professional designations in the financial planning arena. Her first book, The Secret to Winning BIG: Top Strategies for Winning BIG in Life and Business, is a best-seller. The next book, Poised, Prepared and in HOT PursuitTM of Your Best Success, is expected next year. Fly, beautiful. Fly!, a guided journal will release in August.
Deborah has been acknowledged by America's Premier Experts® as a leading expert in her field. Her work can be seen in a variety of lifestyle blogs and magazines. She has been listed by INC. Magazine as one of America's Trendsetters in Health, Wealth and Success. and has been featured in the Wall Street Journal, Forbes, Morningstar, CNBC, NBC, CBS, FOX, ABC, and other news outlets. She is a member of the invitation-only Forbes Coaches Council.
Find out more at www.deborahhightower.com.
Follow her on social media at:
www.facebook.com/thedeborahhigh
www.twitter.com/thedeborahhigh
www.linkedin.com/in/deborahhightower