Are you ready to live your vision and mission to create the impact that only YOU can make?
Let's work together to let the world know that you are ready to make a difference!
Let's get started!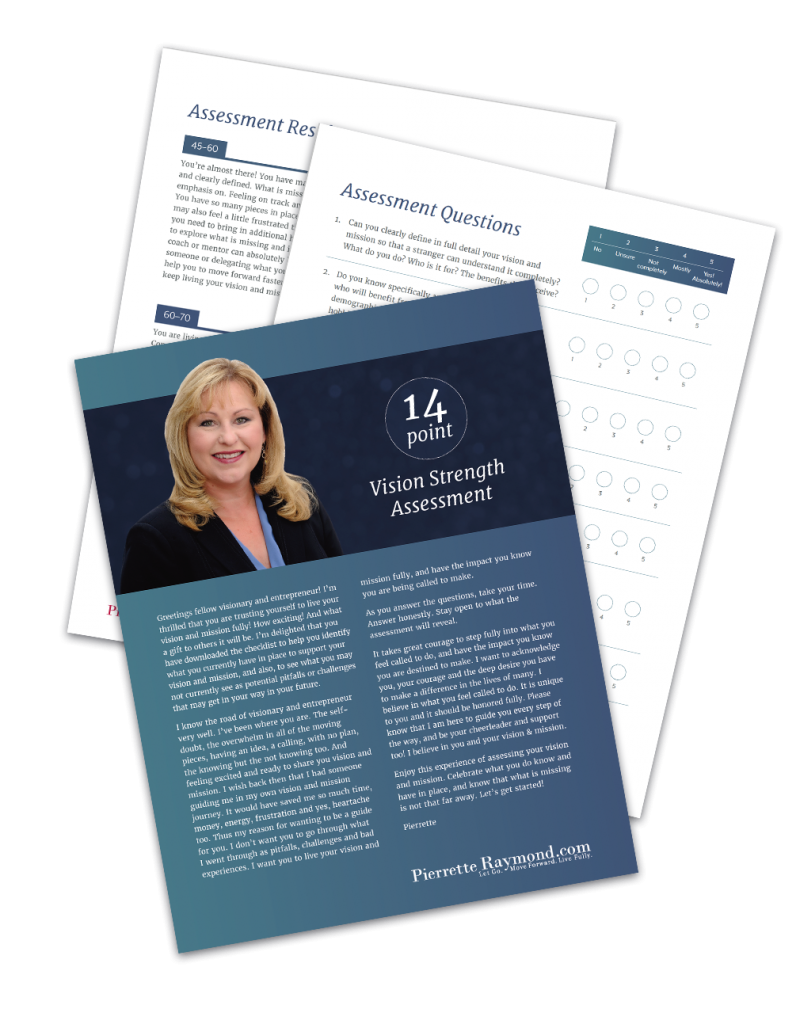 Download the Visionary Strength Assessment Today!
As a visionary and leader you may find yourself feeling alone.
Chances are you are working extremely hard to create your vision, live it fully and make a difference. You may wish more people knew about your work and that you are ready to help them.
You may find yourself asking, "Who can I turn to for help?"
In those moments, you can rest assured that you are not alone. All visionaries and leaders feel pulled in many directions, with many people who count on them to get it right.
If you are looking for the guidance, support and community to help you grow your vision, live your amazing mission, improve profitability while you feel supported and guided too as you manage all of the pieces of your business, you have come to the right place.
Together, we will work to help you live your vision and mission fully.
And the best part is you can continue to make a huge difference in the lives of the people that matter most to you.
The visionaries and leaders who invest in themselves to work with me are professional, hard-working, dedicated leaders.
They work hard to ensure all of the pieces work together in the business. Often, because they give so much to everyone else, they feel isolated and struggle alone.
But you are not alone. Together we will:
Align you and your life with that deep inner calling pulling you forward.
Provide you with a network of peers and strategic partners who will guide and support your personal and professional growth in your role as visionary and leader.
Provide you with the tools and strategies to let go of what is no longer serving you, your business and your life, which will create time, money, and energy for priorities that will impact all aspects of your business.
Mentor and coach you through the challenges you will face, ensuring you are supported through your challenges and growth.
"They say destiny is already written. But I believe you have to grab the pen and become the author of your life."
"Pierrette presented at our IAAP Ottawa Chapter meeting. Pierrette's clear and concise steps have provided me with the extra push I needed.  Her SET technique (Simple, Easy and Timed) guided me to do just that. Less talk and more action is what I'm now doing. No more thinking about those things to do. If you are feeling overwhelmed, I would highly recommend you access some of Pierrette's services to help you!"

CAP-OM IAAP Ottawa Chapter

"Pierrette is that special kind of person who "cares" more than most. She has the ability to "go deep" and provide a level of service unexpected and undelivered by most. She makes a difference, makes an impact and makes you feel very special. I would not hesitate to recommend her or her services to anyone."

CSP Professional Speaker, Trainer & Author

"I met Pierrette when she was launching one of her businesses. I am not easily impressed by trainers and tend to watch with a critical eye. Well, she drew me in. She was innovative, fresh, creative, engaging, vulnerable, confident and a fireball! She isn't afraid to put a stake in the sand and go after what she wants. Add to that, she has a huge heart and works passionately and diligently for her clients."

Workplace Culture Expert And Executive Coach

I recently attended a COO Alliance City Forums meeting hosted/facilitated by Pierrette Raymond and I was extremely impressed from start to finish. During the meeting we tackled important business issues that pertain to almost every industry and company size. I left feeling excited and motivated by having the opportunity to explore these challenges with so many like-minded, experienced members of the business community. Most importantly it was hosted in a relaxed and trusting atmosphere. I am looking forward to continuing our journey with the COO Alliance City Forums and Pierrette Raymond.

BuildAble

Today's experience at the COO Alliance City Forum was eye opening, not just for myself but for my team. It was a great way to share experiences with other COOs and 2nd in Commands that are in the day-to-day operations. Today was not just about big ideas without action. Today, we put our ideas onto paper and left with things that we could implement immediately into our businesses that would not only solve problems that we may be experiencing at the moment but, with the help of our peers, we created actionable steps that will immediately improve our businesses. This was not a wasted day. It was a day of very high value that will impact our businesses greatly. I can't recommend Pierrette and her organization enough to people who really want to execute on their plans, get it done well and get it done fast. She's the person to come to.

On Brand by Stayci Keetch