Are you a business owner, leader or executive looking to grow your business, support your team, and create an impact in your community and around the world?
Are you worried that you are wasting your time, money, and energy on all of the wrong things?
Let's work together to help you lean in to what is possible!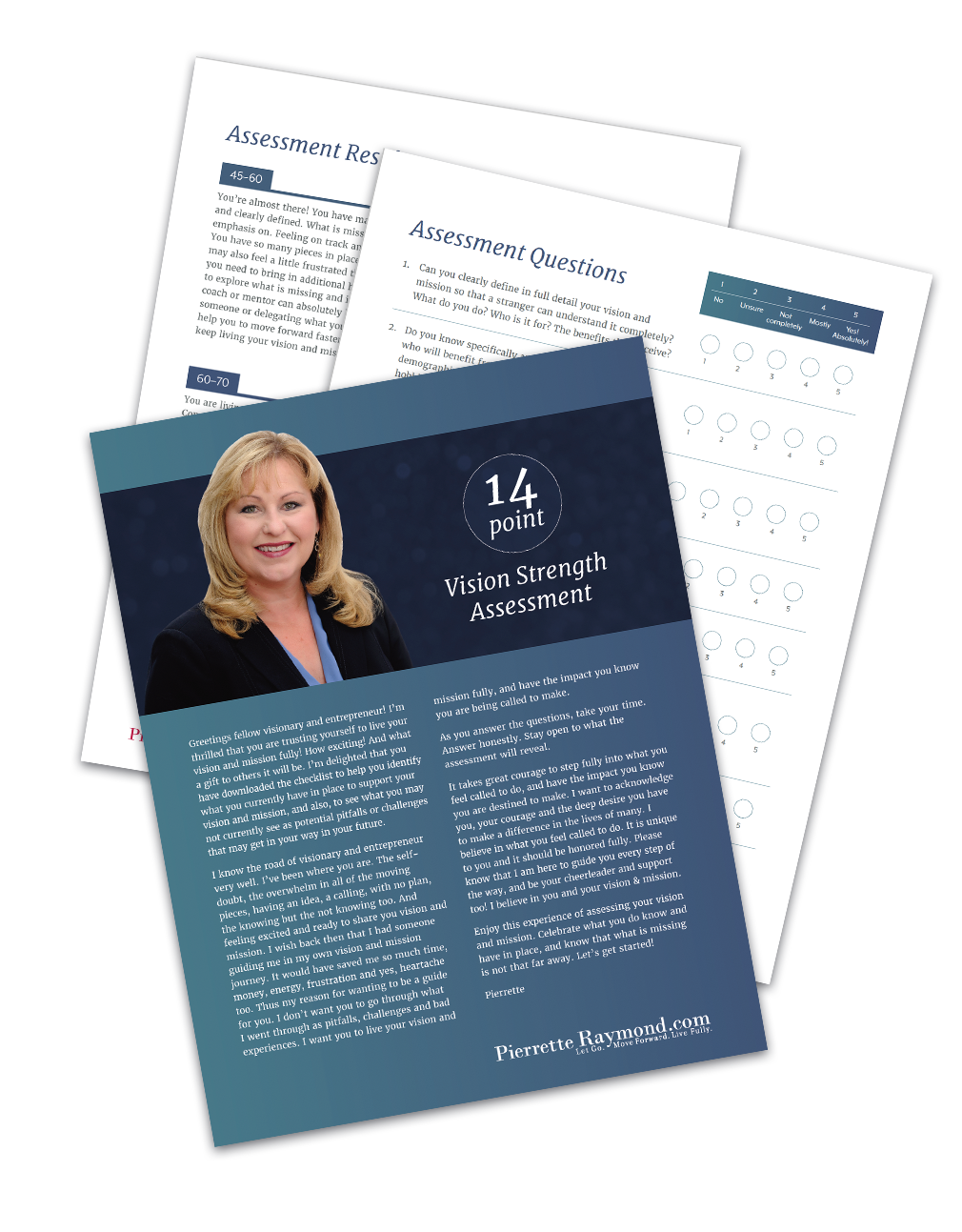 My gift to you – take the 14 Point Vision Strength Assessment to:
Determine how clearly defined your vision and mission are, and what you can do to improve them.
Identify the strengths in what you currently have in place to fully execute your vision and have the impact you know you want to make.
Identify the missing pieces in your vision and mission that will hinder your progress, cost you time, money and energy, and prevent you from living your vision fully.
Determine clear action steps you can take immediately to improve your vision and mission, and help more people.
Upon receipt of the assessment, I will provide you with additional tips and resources to help you live your vision and mission fully. My role is to guide you and help you create the impact you know you are destined to make as you bring your vision to life and live your mission fully.
Take the 14 Point Vision Strength Assessment Today!
Work with Pierrette
Hiring an experienced and highly trained professional will exponentially help you to reach your goals. Here are three options to work with Pierrette:
Work 1-on-1 with Pierrette
Are you looking to grow your business, move through a time of transition, and remain focused on your goals and priorities? With my experience and expertise having run multiple businesses over the last 23 years, you will be guided and supported to reach your personal and professional goals. I offer a variety of options to work privately with me. Contact me and let's get started!
This is an exclusive opportunity for you to mastermind and receive specialized training with Pierrette every sixty days through a peer-to-peer experience.  Gain invaluable insight, share impactful resources, troubleshoot common problems and receive mutual support on a regular basis. Apply to be part of an Impact Group Experience specifically tailored for you and your business.
Invite Pierrette to speak at your event
With over twenty-three years of running multiple businesses, Pierrette is passionate about guiding her audiences of entrepreneurs, business leaders and visionaries through the process of letting go and leaning in. Through her personal stories and experiences, she provides audiences with the tools to realign priorities, let go of what is getting in the way, to lean in to what is possible. Hire Pierrette for your next event!
It's time to uplevel your business and your life!
Take the 14 Point Vision Strength Assessment Today!
download now