Are you a visionary or entrepreneur with a vision and mission that is calling you forward?
Are you worried that you are wasting your time, money, and energy on all of the wrong things?
Let's work together to get your vision and mission out in the world!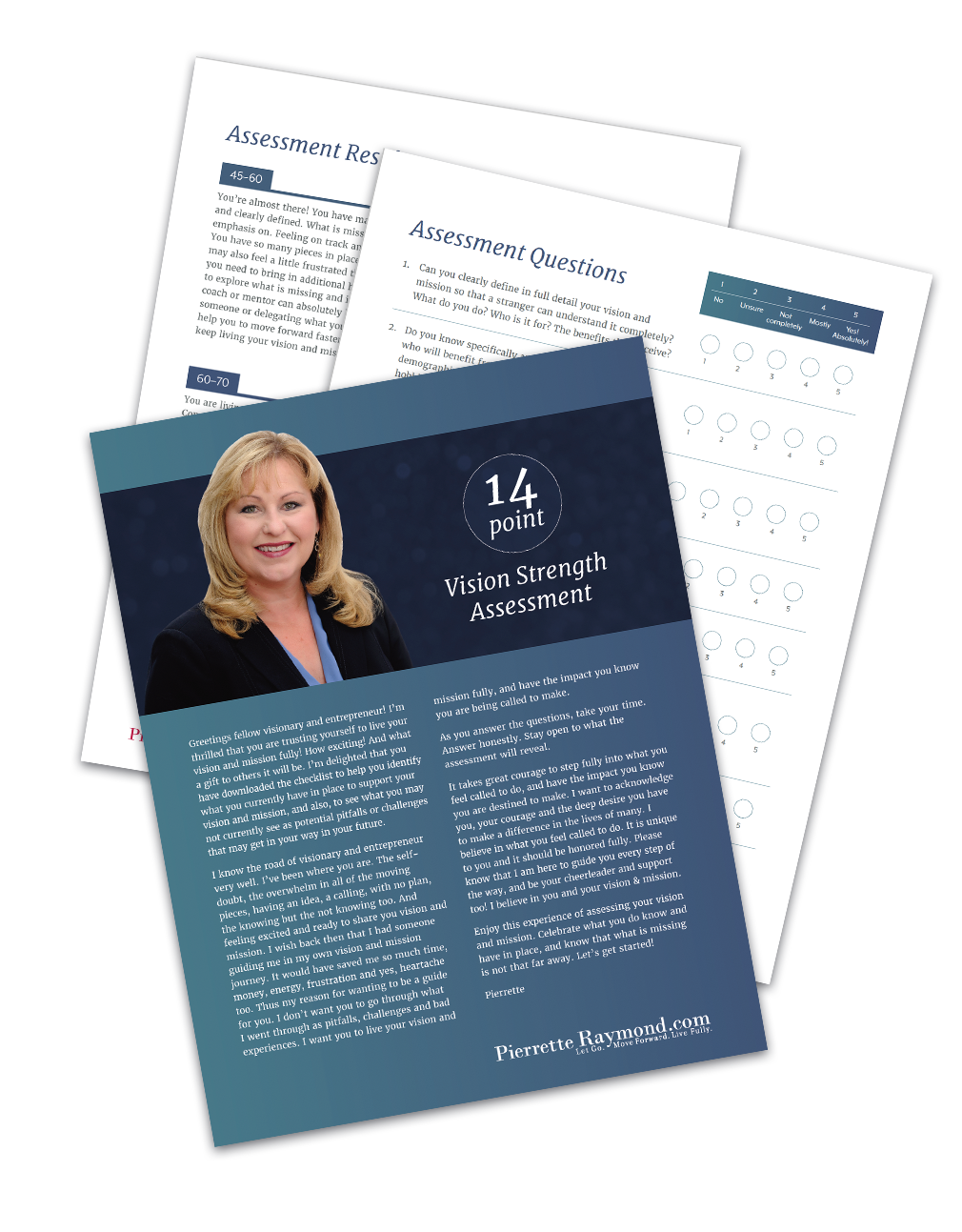 My gift to you – take the 14 Point Vision Strength Assessment to:
Determine how clearly defined your vision and mission are, and what you can do to improve them.
Identify the strengths in what you currently have in place to fully execute your vision and have the impact you know you want to make.
Identify the missing pieces in your vision and mission that will hinder your progress, cost you time, money and energy, and prevent you from living your vision fully.
Determine clear action steps you can take immediately to improve your vision and mission, and help more people.
Upon receipt of the assessment, I will provide you with additional tips and resources to help you live your vision and mission fully. My role is to guide you and help you create the impact you know you are destined to make as you bring your vision to life and live your mission fully.
Take the 14 Point Vision Strength Assessment Today!
Work with Pierrette
The visionaries and leaders who invest in themselves are professional, hard-working, and extremely dedicated.
Work 1-on-1 with Pierrette
If you're going through a time of transition and loss, and want to support your team and grow your business, working 1:1 with Pierrette is an exclusive opportunity for you. With her help, support and guidance, you will reach your personal and professional goals, while being fully supported in all that you do as a visionary and entrepreneur.
This is an exclusive opportunity for you to network and mastermind with your peers as an invaluable opportunity to share impactful resources, troubleshoot common problems and receive mutual support on a regular basis. Apply to be part of a Mastermind experience specifically tailored for you and your vision and mission.
Invite Pierrette to speak at your event
Pierrette is passionate about moving her audiences of visionaries and leaders to see that their success is directly related to how they take care of themselves, especially during transitional times of change. Through her message, your audience will be moved to take action to see that times of loss and transition are opportunities to grow.
It's time to discover your vision and mission.
Take the 14 Point Vision Strength Assessment Today!
download now