Living Fully Show with Amanda Sterczyk: How Movement is the Key to Longevity & Wellness
Are you feeling like you are too sedentary?
Do you sit for extended periods of time at your desk or in your car?
Are you concerned that you are not as strong physically as you can be?
In this interview,  Amanda Sterczyk, Founder and President of Amanda Sterczyk Fitness and Creator of The Move More Institute, provides helpful and practical and hands-on exercises to help you:
Effectively stretch at your desk or while at a red light in your car
Properly do load bearing exercises to strengthen your core and your bones
Do simple and effective exercises that will increase your energy and dramatically impact how you feel
WATCH THE INTERVIEW and see how to properly perform the stretches Amanda suggests:
To listen to the interview or download it to bring it with you on the go:

Listen to the episode (Episode 011) on iTunes.
Our first charity featured in #1M10MProject is Voice Found, a Canadian-based, survivor-led charitable organization that is on a mission to prevent child sex abuse and commercial sexual exploitation. Their slogan is "Giving voice to those trapped in the dark."
Voice Found was created in 2011 by Cynthia Bland, "a survivor who had a successful career prior to disclosure. Once she disclosed (after 42 years of silence) she realized that she needed to DO something. And so in 2011, she founded Voice Found."
Amanda Sterczyk chose this organization  because she believes in what they are doing to help children in our communities.
Thank you Amanda for joining in supporting #1M10M Project!
About Amanda Sterczyk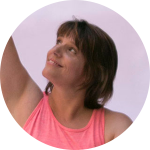 Amanda Sterczyk is a Certified Personal Trainer (ACSM), an Exercise is Medicine Canada (EIMC) Fitness Professional, a Certified Essentrics® Instructor, and Creator of The Move More Institute (MMI). The MMI is an initiative to promote healthy active living by adding more movement to individuals' daily lives. She has been teaching group fitness classes since 2010. Amanda has taught men, women and children of all ages, as well as elite athletes. She offers in-home/in-office personal training, Essentrics group/private sessions, and movement coaching/workshops in central Ottawa and via Skype. Amanda specializes in helping older adults maintain and increase strength, flexibility, and mobility. Amanda's mantra is "Move more, feel better". Amanda is based in Ottawa, Canada
For more information about Amanda, you can visit her website at www.AmandaSterczyk.com
To watch & listen to this interview, and many others, visit the Living Fully Show.