Join the Women Living Fully Community
Private Journal Entry
October, 2002
I feel like there's more to my life that I should be living.
I'm not just my business. I'm not just a mother or a wife. There's something more. What is it?"
This journal entry and this awareness put me on a path I would never have expected.
A few days later, while watching Oprah Winfrey accept the first ever Bob Hope Humanitarian Award. As I sat in bed, lights out as my husband slept, her words forever changed my life:
Oprah said: "And my father said to me, 'They are regular people. They're just like you. They want the same thing you want.' And I would say, 'What?' And he'd say, 'To be fed.' And at the time, I just thought he was talking about dinner. But I have since learned how profound he really was, because we all are just regular people seeking the same thing. The guy on the street, the woman in the classroom, the Israeli, the Afghani, the Zuni, the Apache, the Irish, the Protestant, the Catholic, the gay, the straight, you, me—we all just want to know that we matter."
Hearing her speak those words and knowing that there was something more for me to explore, lit a fire in me. I too wanted to be fed, to know that I mattered. And I knew that if I was feeling this way, others were too. I wanted others to know that they mattered.
I had a deep desire to create a community,
to walk alongside other women who knew their lives had greater purpose and vision, just like I was feeling. That they too knew they were more than the definition of their role at work or in their home, that they mattered.
And so it began.
My first quest at building a community of women - Women Moving Forward was born (we were initially called "Women on the Move".)
The mission: "Empowering women to live extraordinary lives."
The vision: "One million women. Ten million lives."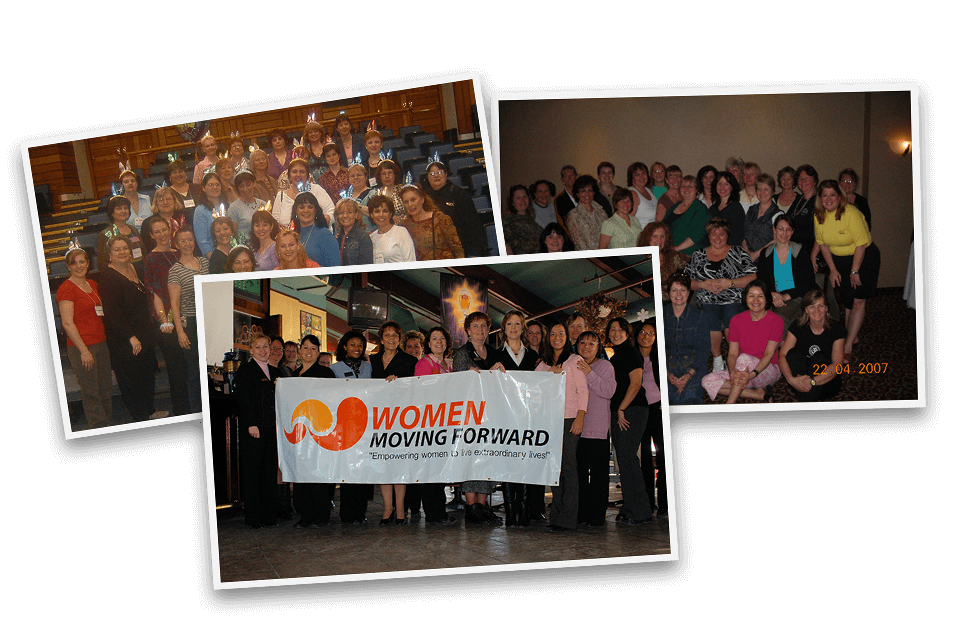 On October 2nd, 2002, I held the first Women Moving Forward meeting and for the next five years, we built a community of like-minded women, setting personal and professional goals that mattered to us, and the lives we wanted to live.
We had monthly outings and experiences to further foster our personal growth and love for life outside of work and our homes.
We held yearly retreats and enjoyed a weekend of trying new things, eating great food, having fun and just being ourselves.
And then everything changed.
My mother died. A trademark conflict arose, and ever so slowly, Women Moving Forward stopped being what it was, and eventually it was shut down.
The loss of my mother and shutting down Women Moving Forward affected me profoundly. So much so, that I went back to school to study Death & Dying, Bereavement, and Funeral Services too.
What I realized through my studies is that we all have difficulty letting go.
Letting go of loved ones after they have gone.
Letting go of possessions that have lost their meaning and purpose.
Letting go of beliefs that no longer serve us.
This realization of people struggling to let go set me on a path of working privately with families who needed to put their homes on the market so they could let go of what no longer was serving them and move forward in their lives.
They needed help downsizing their property, letting go of what they no longer needed so that they could live simpler, happier, and more fulfilling lives with what they loved and what truly mattered most to them.
Seeing people let go to move forward and live fully was fantastic!

The journey continued working with caregivers. I found myself working with more women who are now part of the sandwich generation, caring for aging loved ones, children at home, all while trying to take care of themselves.
They were feeling the overwhelm and burden that you may be feeling, being part of the sandwich generation.
My role evolved and I began to provide relief to women from the emotional, psychological and physical strain that caregiving brings.
Caring for loved ones, losing loved ones, while trying to maintain a career, a family and a life, can be incredibly taxing, emotionally exhausting for women who are no longer taking care of themselves.
You may be able to relate.
These women are caught in the middle.
How can you be there for your loved ones and still put you at the top of the priority list?
How can you say yes to your needs and do what is right for you?
How can you live a rich, rewarding and full life?
Women Living Fully was born.
Women Living Fully is a group, a community, that began as a way to help women share privately all that they are experiencing without judgement so they can continue to care for their loved ones and find their way through the overwhelm, and take care of themselves.
They want support and coaching to help them through the overwhelm, to release the burden of guilt, and choose to do things for themselves, to better show up for others.
Women living fully want to live their lives with a sense of peace, direction and fulfillment.
Working together, these women are able to find a quiet place to be themselves, to connect and reignite their goals and their dreams.
This work allows them to create the vision for their lives, reconnect with what matters, and live fully without leaving anyone behind.
Together we build a plan with them at the centre, living lives fully from the inside out, the outside in.
This path for women is exciting. The are able to find themselves again and they are able to live fully.
This place at which I have arrived, this place of helping women live their lives fully with who and what matters most is what my life's mission is about.
Walking side by side with women, hearing their stories and helping them live a life they are meant to be living is both rewarding and gratifying.
For you, and for me, it's all about living fully.