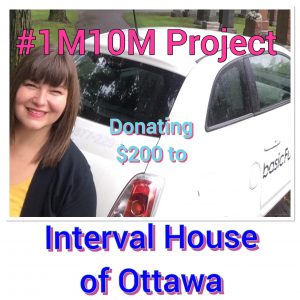 My name is Tania Tack. I am a Licensed Preplanner with Ottawa's most affordable and trusted funeral home, Basic Funerals.
We were invited to take part in this project of helping 1 million women positively impact 10 million lives. The #1M10MProject is a big vision – to positively impact the lives of 10 million people through the stories of 1 million women. It's also about taking $1 Million Dollars and turning it into $10 Million Dollars, one person, one cause, one story at a time. Thank you to Pierrette Raymond for inviting us along on this journey. We are truly honoured.
On behalf of Basic Funerals, I chose to support Interval House of Ottawa. Interval House provides temporary shelter and a supportive environment for women and children that are in personal need of help due to domestic violence. Their mission is to end the cycle of violence and to empower women and children who are victims of abuse.
Interval House is special to me for a couple of reasons. Growing up, I was fortunate enough to be surrounded by amazing women, notably my mother and my aunts. They took the time to demonstrate true strength in kindness, love, and support. They taught me the value of helping others in our community by being charitable and socially aware. We have to remember that these special women were able to be themselves, without fear, partly because of the men in their lives. My mother in particular was faced with a great deal of adversity when she came to Canada, but with the unwavering support of my father and his family she was able to flourish.
One of the ways my mom helped her community (way back in the day when she was alive and big hair was cool) was by knitting copious amounts of her signature mittens while my aunt (who also donated some of her phenomenal knitting) made sure their knitting was given to the women and children in need at Ottawa's Interval House. From time to time as we lived our lives running errands around town, we would see women and children bustling about wearing my mom's mittens. Knowing we played a small part in bringing comfort to these women in need was so heartwarming. I felt so proud of my mother and aunt.
Shouldn't every woman have the resources and support to be that amazing? I was so lucky to have these courageous, vibrant, fierce women in my life. So in memory of my mom who was cherished and lovingly supported by my gentle, doting father, let's help these women and children get the help they need at Interval House. Let's remind them that there is kindness out there and that they have the strength to seek it, to share it, and most importantly to deserve it.
Join Basic Funerals in supporting Interval House of Ottawa.
Take the 14 Point Vision Strength Assessment to find out!