The Journey of Transformation
I met Susan Kumar last October, through the Ottawa Makeover Project. I am on the team as life coach and decluttering expert. When we first met Susan through her application video, we all knew she would be a great candidate for the Project:
She was ready for a change.
She had been through a lot of transition, hard ones too.
She was ready to say yes to her and the full experience.
She was also very ready to let go of the old – physically, emotionally and psychologically – to bring in the new – new opportunities, new experiences, and new joy too.
Working with Susan was a great experience. She embraced every part of the Project openly, and even when things got tough, because they always do during transition and transformation, she stuck to the vision, the blueprint, that she wanted for her life.
She and I spent four hours in November creating her blueprint for her life and her business. We worked on:
The big vision for the life she wanted to live – her "living fully vision"
Her ideal day, from morning, noon until night
Her goals, the little ones and the big ones too
What she wanted to add into her life, i.e. more fun and social time
What she wanted to let go, i.e. pain of her past relationship
A strategy and a plan, the step-by-step kind
Her revenue goal, including ideal client, and marketing strategy
It was the full "Living Fully Vision" we created.
Through the months of the Project, Susan focused on those goals and with the help of the all the partners, began living her vision.
She and I also worked on decluttering her closet and making room for the pieces that she absolutely loved, so that she could let go of what she knew was time to let go, including a very special dress that meant so much to her, and yet, brought her more pain than joy.
Through our experience together, Susan let go of so much baggage from her past; she focused on what she wanted for her and her son; and she follows her vision for what is truly important to her in her life.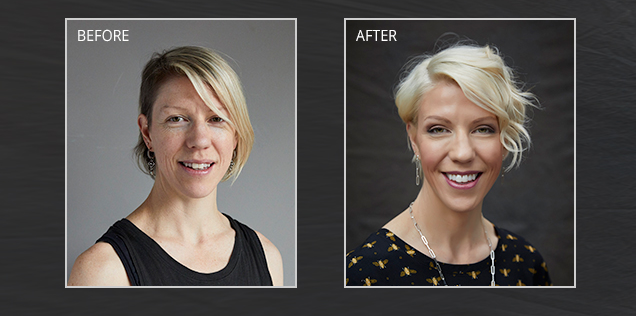 I'm so proud of Susan! This is the beginning of the next chapter of her life, one that will be rich with all that she wants to experience as she lives fully!
Thank you to Dr. Andrea Stevens for creating and managing all aspects the Ottawa Makeover Project. Thank you to Miv Fournier of MIV Photography for the great video and photos, and to all of the other Partners for the great experience collaborating on this Project! I'm honoured to be part of the team.
If you are ready for a life transformation, and you are ready to let go of the old to bring in the new, applications are now being accepted for the 2017-2018 Ottawa Makeover Project. To apply, fill out the form directly on the website and get ready for an exciting experience! Is it your turn to say yes to you and your living fully vision?
(Note: if you'd like to get started before the Project begins next November, reach out to me. Let's get started on your Living Fully Vision, let's start decluttering your life, from the inside-out, outside-in, so that you too can have more joy, peace, wealth and happiness in your life. I look forward to hearing from you!)