Living Fully Show with Pat Obuchowski: How to Be Gutsy During Transition
"You don't have to keep doing what you have always done merely because you are good at it." Pat Obuchowski was facing making a big transition in her career. Should she stay in a comfortable life path, working in a male dominated industry, or break free to pursue something she felt called to do. In this Living Fully Show interview, Pat shares her story of how she came to make her decision, the challenges that she faced thereafter and what she learned as a result. It's never easy making big decisions. What Pat offers in this interview may give you the clarity and insight that you need to let go to move forward and live fully.
In this episode:
"You don't have to keep doing what you have always done merely because you are good at it."
What were some of the biggest challenges Pat faced to say yes to herself, and make a huge transition.
Letting go of security, and having a timeframe for success.
Learning how to ask, and being clear on what you offer.
Finding your tribe.
Helping women in business & politics.
Getting clear on your why.
Watch the Episode
Listen/Download the Episode

Resources:
Website: gutsywomenwin.com
Book: Gutsy Women Win: How to Get Gutsy & Get Going
TED Talks
#1M10MProject
Pat has chosen Global Women's Leadership Network for her participation in the #1M10MProject. The GWLN was founded in California, USA, over ten years ago. Its primary purpose is to help train women from around the world to step into leadership roles. These women will attend a powerful and transformational Leadership Development Program and take back the skills they have learned to their home countries and help to shape more women leaders. Over 200 women from around the world have completed the program and are making a difference in their leadership roles.
"My #1M10MProject: I will donate to Global Women Leadership Network https:// www.GWLN.org. The Global Women's Leadership Network (GWLN) finds women who are leading courageously, creatively, and powerfully around the world and we catalyze their impact."
About Pat Obuchowski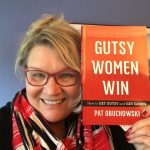 Pat Obuchowski, is an executive and leadership coach and the Author of Gutsy Women Win: How to Get Going and Get Gutsy. Pat brings to her business over 20 years experience in leadership in companies such as Visa Int'l and General Electric as well as growing another successful business to over one million dollars in 2 1/2 years. She is a professionally certified coach in her own successful business for 16 years.
Website: http://gutsywomenwin.com