Looking to inspire & support business owners and leaders?
Pierrette is passionate about mentoring, coaching and guiding visionaries and leaders to run profitable businesses, create engaged cultures, while having a profound impact on their people and their communities.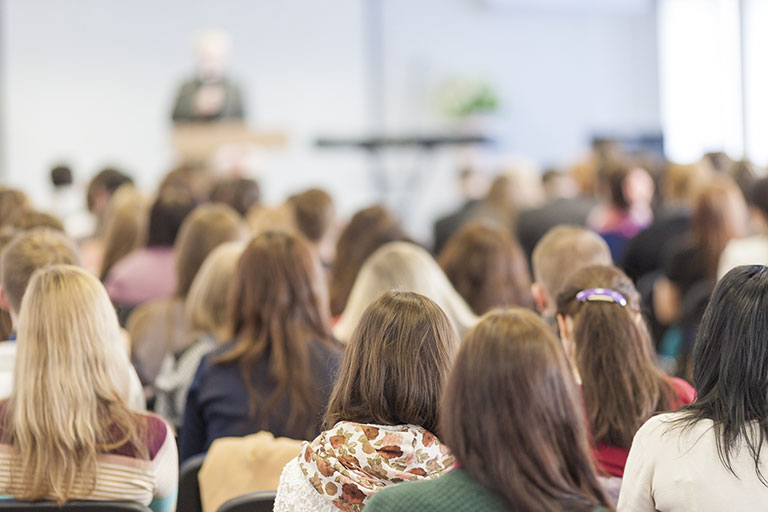 Pierrette Raymond has been at the helm of multiple businesses since 2002.
She knows how to support visionaries, entrepreneurs and leaders so they feel supported, thrive in their role, and execute the vision and mission of their company.
She is comfortable on a stage in front of 50 people as she is comfortable in front of a full auditorium of people.
She is a seasoned keynote speaker that knows how to connect with your audience, energize and empower them to make changes in their businesses and their lives.

Customized talks are key
She will craft a presentation that is custom to your audience's challenges and outcomes desired.

A Focus on Vision, Mission & Impact
She will highlight the key points to create profitable businesses and healthy lives.

Bridging Differences to Commonalities
She will show that the differences are often bridged through unseen commonalities.
"Pierrette presented at our IAAP Ottawa Chapter meeting. Pierrette's clear and concise steps have provided me with the extra push I needed.  Her SET technique (Simple, Easy and Timed) guided me to do just that. Less talk and more action is what I'm now doing. No more thinking about those things to do. If you are feeling overwhelmed, I would highly recommend you access some of Pierrette's services to help you!"

CAP-OM IAAP Ottawa Chapter

"Pierrette is that special kind of person who "cares" more than most. She has the ability to "go deep" and provide a level of service unexpected and undelivered by most. She makes a difference, makes an impact and makes you feel very special. I would not hesitate to recommend her or her services to anyone."

CSP Professional Speaker, Trainer & Author

"I met Pierrette when she was launching one of her businesses. I am not easily impressed by trainers and tend to watch with a critical eye. Well, she drew me in. She was innovative, fresh, creative, engaging, vulnerable, confident and a fireball! She isn't afraid to put a stake in the sand and go after what she wants. Add to that, she has a huge heart and works passionately and diligently for her clients."

Workplace Culture Expert And Executive Coach

I recently attended a COO Alliance City Forums meeting hosted/facilitated by Pierrette Raymond and I was extremely impressed from start to finish. During the meeting we tackled important business issues that pertain to almost every industry and company size. I left feeling excited and motivated by having the opportunity to explore these challenges with so many like-minded, experienced members of the business community. Most importantly it was hosted in a relaxed and trusting atmosphere. I am looking forward to continuing our journey with the COO Alliance City Forums and Pierrette Raymond.

BuildAble

Today's experience at the COO Alliance City Forum was eye opening, not just for myself but for my team. It was a great way to share experiences with other COOs and 2nd in Commands that are in the day-to-day operations. Today was not just about big ideas without action. Today, we put our ideas onto paper and left with things that we could implement immediately into our businesses that would not only solve problems that we may be experiencing at the moment but, with the help of our peers, we created actionable steps that will immediately improve our businesses. This was not a wasted day. It was a day of very high value that will impact our businesses greatly. I can't recommend Pierrette and her organization enough to people who really want to execute on their plans, get it done well and get it done fast. She's the person to come to.

On Brand by Stayci Keetch
Contact Pierrette for your next event as she will transform the room and impact the lives of your audience members and conference attendees on a completely different level.