Growing Operations in a Gig Economy with Stayci Keetch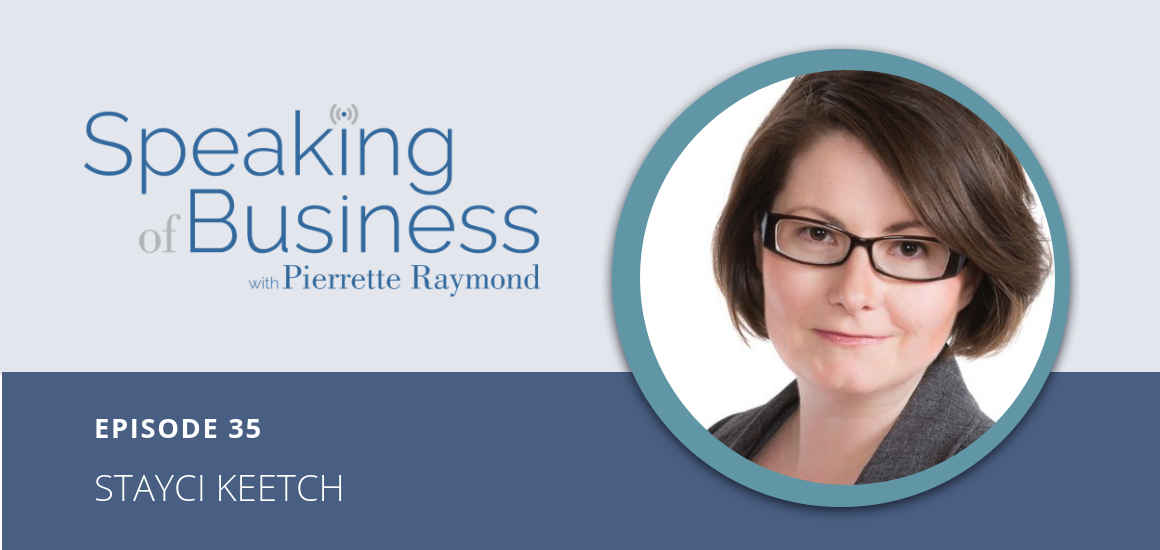 During the first video recording of the podcast, we ran into technical difficulties that we were not aware of until after the podcast was recorded. Because the video recording is important for the Speaking of Business show, we subsequently recorded two more times. Here are the first and third audio recordings of Stayci and I's conversation about business, operations and what she learned along the way, as well as an explanation about what happened during the first two video recordings. Great lessons learned!
Here is the 1st interview:
Here is the 3rd interview:
Episode 35: Stayci Keetch from On Brand by Stayci Keetch
Stayci Keetch is the Owner and Operator of On Brand by Stayci Keetch. In just two years, Stayci went from being an employee in a media company, to an award winning business owner.
Stayci built her production skills and talent as a television producer for YTV, HGTV & The Food Network but after an illness, she refocused her priorities and transitioned into web development. While in this latter industry, video production kept calling her back which prompted her to start Eyes on Ottawa, which has grown and evolved into On Brand by Stayci Keetch.
The vision of On Brand by Stayci Keetch is to be the behind-the-scenes support for her clients not only in the production of their video content but also in their overall branding efforts.
Challenges:
• Recognizing when to bring on employees instead of doing everything yourself
• When it's time to increase your fees while staying aligned with your value
Building Culture:
• Stayci is scaling her business by building a virtual team. The team members of On Brand by Stayci Keetch are located around the world. She focuses on the outcome of projects, not the process. Virtual team members are able to design their own workflow, and are free to be involved in other projects.
Operational Wisdom:
• Have strong systems in place to support each operation in your business.
• Be open to the opportunity when new team members "fall into your lap".
• Hire people who share the same values and can integrate easily into the team.
• Hire for the workflow, this is what is great about the Gig Economy. This will reduce your overhead and allow you to be intentional with every client you take on.
Connect with Stayci at StayciKeetch.com.
More Speaking of Business Episodes
Take the 14 Point Vision Strength Assessment to find out!